We may earn money or products from the companies mentioned in this post. Please see policies for more information.
Disclosure: We have been provided a Fort Magic kit in the past for review but were not required to post.
Surprise!
To celebrate Fort Magic's debut on ABC's Shark Tank tonight (April 18th 9-10pm EST) and their recent Dr. Toy's Best Classic 2014 toy award we get to give away a Fort Magic kit to one of you! Woot!
Yes that's right Fort Magic won the Dr. Toy's Best Classic 2014 toy award for being exceptional in Creativity, Construction, Educational Value and Activity Play for children! Definitely deserved!
I'm sure you already know, but in case you don't – Fort Magic is an innovative fort building and construction toy that enables children to build 3D, kid-created, "life-size" worlds for inventive play! Imagine the hours of excitement at playtime, play-dates, sleepovers and family-time as children build "forts" shaped like pirate ships, castles, playhouses, submarines, airplanes, teepees,tunnels, and so much more…all from just ONE Fort Magic kit! Fantasy becomes reality with Fort Magic through the power of a child's own creative hands! Easy to build, easy to clean up! Fort Magic ignites children's imaginations for hours of creative play!
Here are some awesome recent creations from around the web:
Kids Activities Blog has 10 reasons to build forts (and a giveaway of their own) on their site today
Love this lemonade stand from Uncommon Designs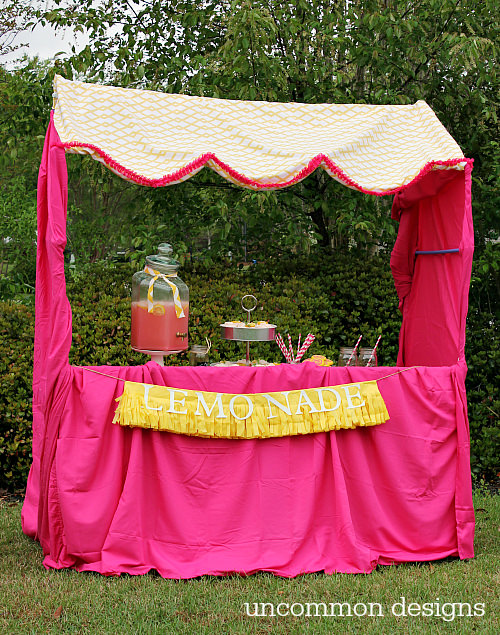 And the Artful Parent has photographed all kinds of creations (we need to get better about that!)
And this is SUCH a smart idea from Play at Home Mom shared on Fort Magic's Facebook page
You can read more reviews on Fort Magic or Amazon
Giveaway!
*The Fort Magic kit does not come with fabric covers.
Enter using the Rafflecopter widget below by following the instructions included – good luck!
(Visited 5 times, 1 visits today)