We may earn money or products from the companies mentioned in this post. Please see policies for more information.
My oldest is collecting all of the Walt Disney Signature Collection DVDs/Blu-ray so adding Pinocchio to our family collection was a "must" for him. I recently got to celebrate the release at the Walt Disney Family Museum when I was in San Francisco for the #RogueOneEvent at the special Pinocchio exhibit. The family and I then celebrated the release this weekend with a little movie night at home thanks to our friends from Disney. 
We love having the physical copies of movies but always download the digital copies for on-the-go viewing. We thought we'd celebrate Pinocchio's loss of strings with a little "no strings attached" movie night outside. Our family is big on movie nights. Sometimes we go all out and sometimes just some popcorn and the family makes it a great night.
Our favorite part of getting new movies is the bonus features! For Pinocchio you can see:
Walt's Story Meetings: Pleasure Island – The Pleasure Island scene in "Pinocchio" had much more development than what is seen in the film. Join Pixar's Pete Docter and Disney historian and author J.B. Kaufman as they explore artwork recently discovered in Disney's animation research library revealing some of the attractions, gags and games, which Disney animators created for this iconic location of the film, that never made it on screen.
In Walt's Words – "Pinocchio" – Hear Walt himself discuss the making of "Pinocchio" through archival recordings and interviews.
The Pinocchio Project: "When You Wish Upon a Star" – Music influencers Alex G, Tanner Patrick and JR Aquino from Disney's Maker Studios, a global leader in short-form videos, gather in a creative workspace to create their rendition of the film's signature song, "When You Wish Upon a Star," and produce a fresh new music video.
Oswald the Lucky Rabbit in "Poor Papa" – This recently restored and scored 1927 short features Oswald the Lucky Rabbit who gets multiple visits from the stork and is forced to attempt various methods to help stop the onslaught of baby deliveries.
Classic Bonus Features – These offerings from prior home entertainment releases include hours of bonus material, such as the making of "Pinocchio," deleted scenes, sing-alongs, storyboards and theatrical trailers.                *Bonus features may vary by retailer
We LOVED the Oswald short! He's a favorite character of ours. Did you know that "Pinocchio" is considered one of the greatest animated films ever made, with two Academy Awards® — for best original score and best original song "When You WishUpon a Star" – and a rare 100% rating on Rotten Tomatoes?! 
Do you have random quotes you say from movies? Ever since I was little we would say "My boy, you are…allergic!" from Pinocchio whenever one of us was sick lol!
Want to have a movie night of your own? You could decorate some lunch tins with a Pinocchio print and add some popcorn or goldfish.
Or make your own adorable wrap for popcorn to lay out before the movie like these.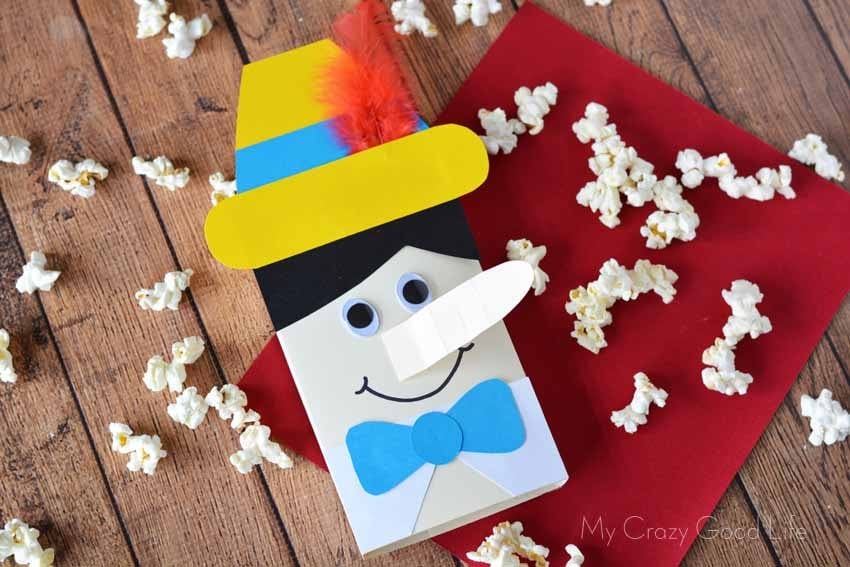 You could use our "Sharky" game but just call him Maestro!
Download a star gazing app and find a favorite star to wish on.
You can get Pinocchio starting TODAY!
I attended the #RogueOneEvent #StarWarsRebelsEvent #MickeyRacersEvent #PinocchioBluray as press. Opinions expressed are my own.
(Visited 79 times, 1 visits today)