This site contains affiliate links. Please see policies for more information.
This shop has been compensated by Collective Bias, Inc. and Conagra Brands. All opinions are mine alone. #ServeUpSummer #CollectiveBias
It's Summer! I don't know about you, but we spend lots of time outside in summer even with our crazy desert heat. To us summer parties means pool time, watermelon, outdoor movies at night and apple pie! This fun party combines all of our faves and keeps the cooking to a minimum for me.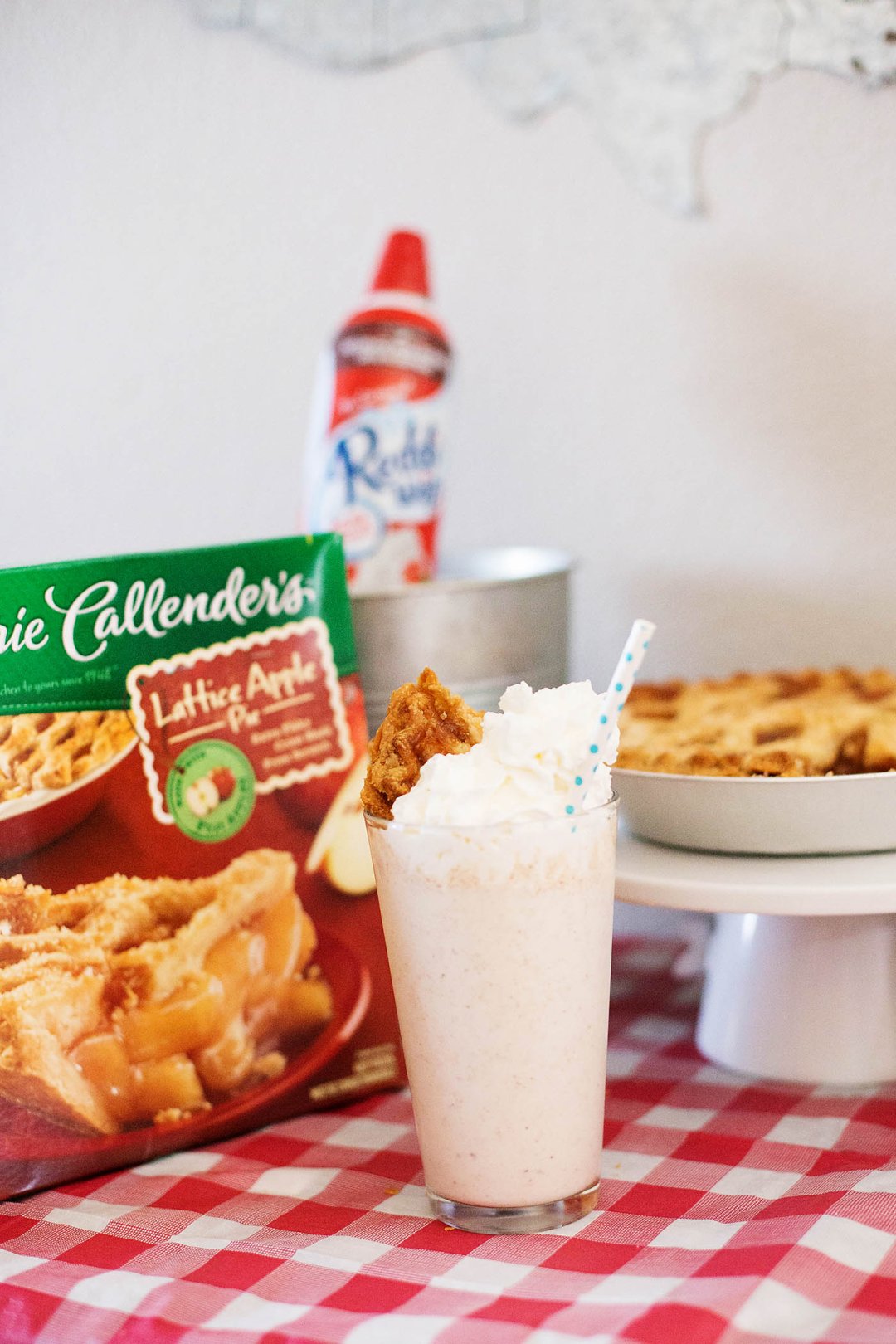 (You can hover over this photo to see what we used for this delicious summer recipe)
I love combining picnics, pool parties and movie parties. It means that there is very little entertaining needed! For this picnic party I spread out a few beach towels knowing that guests would also bring their own.
Dinner was simple sandwiches, pretzels/chips and fruit (watermelon of course). If you prep everything before, this is the easiest party menu ever! I used plastic food trays or wooden berry boxes along with paper bags to hold all the food. This makes it easy to transport around the yard.
Don't forget a "hydration station"! I keep water nearby and in the house so that it's always within reach.
The picnic "blankets" are actually beach towels so they work double duty! Before the sun had set and after everyone had eaten I set up the best part of the night – the apple pie shake bar!
Marie Callender's® apple pie, Reddi-wip® on ice, cups, straws and even the quick recipe (for a shake and a parfait if they didn't want to make a shake) all went in the bar area. I keep the ice cream in the freezer and milk in the fridge which was just a few steps away.
Shakes (or parfaits) are the perfect dessert for this type of party because they are so portable! No messing with plates here!
I baked the pie early in the day so that it had time to completely cool and get even a little colder in the fridge (since it was going to be used for the shakes). Marie Callender's pies always come out beautifully and have that homemade quality but with the special touches of professionals. They are perfect to keep on hand to bake up for a perfect fresh pie whenever you want! You can pick them up in the freezer aisle at Walmart along with everything else you'll need for your party (I got those cute new beach/pool towels at Walmart too).
Here's how to make an apple pie shake:

Apple Pie Milk Shake
Prep time:
Cook time:
Total time:
A delicious twist on an American Classic - this apple pie shake brings apple pie a la mode to a new level.
Ingredients
Marie Callender's® Apple Pie baked, cooled and refrigerated
vanilla ice cream
whole milk
cinnamon
Reddi-wip®
Instructions
Place 2 big scoops of ice cream in the blender
Add a splash or two of milk (add more as needed when blending you want it to be thick but pourable)
Add a small slice of Marie Callender's® apple pie to the blender
Add a pinch of cinnamon
Blend until smooth
Pour into glasses
Top with Reddi-wip®
Sprinkle with cinnamon
Garnish with a piece of pie
ENJOY!
I also had out small cups to make parfaits (layered pie and ice cream or Reddi-wip) but everyone wanted to try a shake!
Once shakes were made and enjoyed and the sun went down we watched a movie outside while some still swam. It's also not a summer party around here without sparklers!
Are you planning more summer parties and cookouts? Check out more awesome inspiration here.
(Visited 1 times, 3 visits today)