We may earn money or products from the companies mentioned in this post. Please see policies for more information.
If you haven't heard about The Peanut Butter Falcon, you're missing out! It's out on Blu-ray and DVD today and we received a copy to review. Parker (17) has been really wanting to see this (we missed it in theaters) and it did not disappoint. I asked him to do a little review of the film and Blu-ray. So here's a teen review of The Peanut Butter Falcon on Blu-ray!
The Peanut Butter Falcon on Blu-ray
The Peanut Butter Falcon is a super sweet, funny, and entertaining tale about Zak who runs away from his care facility to become a pro wrestler and Tyler, his runaway friend, who together makes their way to Zak's pro wrestler school to fulfill his dream. The film is beautifully directed and photographed, which just adds to the experience you get when you watch this film.
While the film is very funny and fun, I think that it really shines when it takes time to be dramatic and show it's sweeter and more heartwarming side. The three main leads in this film are fantastic, especially Zak played by Zack Gottsagen who drives the whole film with his dream of becoming a pro wrestler.
The Blu-ray of the film looks and sounds amazing, especially with its beautiful cinematography and a great score to accompany it. It also has a great making-of featurette called Zack's Story: The Making of The Peanut Butter Falcon.
As a whole, I highly recommend this film if you are looking for an inspiring and super fun film to watch.
DIY Peanut Butter Falcon Costume
Become the one and only Peanut Butter Falcon by creating your very own DIY PBF costume! Download the instructions and get started crafting right now at http://bit.lyPeanutButterFalconDIYCostume!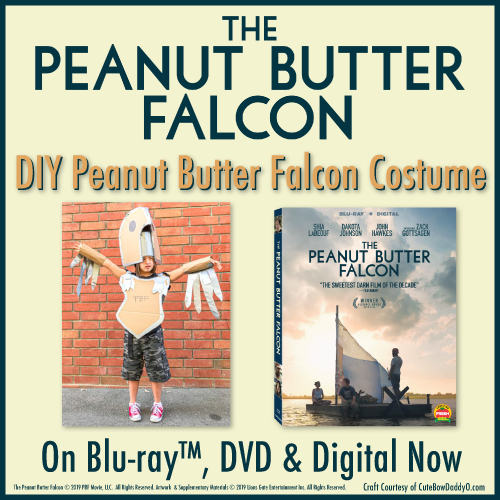 (Visited 1 times, 1 visits today)