We may earn money or products from the companies mentioned in this post. Please see policies for more information.
It's time for Captain Marvel to come home on Blu-ray™ and Blu-ray 4K Ultra HD™ (June 11, 2019 to be exact) and we LOVE a movie release. At home movie nights is our family's favorite thing to do together and they are definitely part of our summer routine. Our favorite new character from the movie was Goose (the cat) so we wanted to share this fun puppet DIY with you to celebrate the Blu-ray release of Captain Marvel!
Captain Marvel DIY Goose the Cat Puppet

I love this easy DIY Goose the Cat Puppet. You can grab the easy printable instructions HERE, gather your supplies and get to crafting!
Supplies needed:
paper bag
colored paper (orange, purple, black, and white)
crayons/markers
black permanent marker
adhesive
scissors
Click on the image below for the easy instructions!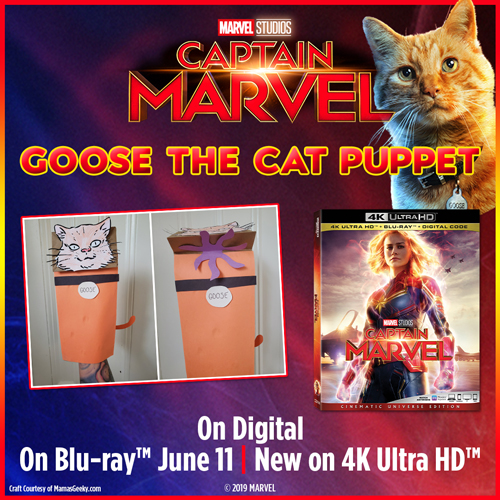 Captain Marvel Blu-ray
We always love a good gag reel and of course, your copy will have that! You can also expect to find:
Featurettes:
Becoming a Super Hero – Follow Brie Larson's journey as she joins the MCU, and see what it takes to be a Marvel Super Hero in every sense of the word.
Big Hero Moment – Explore how impactful Captain Marvel's entrance into the MCU is, and how she inspires audiences around the world.
The Origin of Nick Fury – Witness some of the MCU's most significant events through Nick Fury's eyes, and see how his influence helped shape the MCU.
The Dream Team – Discover why Anna Boden & Ryan Fleck are the perfect pair to direct Marvel Studios' most powerful hero.
The Skrulls and the Kree – Take a deeper look into the Skrulls and the Kree, their ongoing conflict, and the importance of shifting perspectives in the film.
Hiss-sterical Cat-titude – The cast and crew dish on working with Goose and the raw talent it takes to portray such a complex character on-screen.
Deleted Scenes
"Who Do You Admire Above All Others?" – Kree Commander Yon-Rogg must answer to the Supreme Intelligence, who questions his leadership ability.
Starforce Recruits – Yon-Rogg lectures a roomful of students on the Kree's mission to defend all nations from the scourge of the Skrulls.
Heading to Torfa – Vers (Danvers) and her fellow Starforce members banter as they prepare for their rescue mission to Torfa.
"What, No Smile?" – In this alternate version of a scene from the movie, Vers is consulting a map when she receives a dubious offer of assistance.
Black Box – Keller attempts to track Vers and Fury after their escape in a quadjet from the Joint USAFA Facility.
Rookie Mistake – Novice S.H.I.E.L.D. agent Phil Coulson helps Director Keller out of an embarrassing situation.
Digital Exclusives:
Journey into Visual Effects with Victoria Alonso – Experience how filmmakers' visions of the MCU come to life on-screen through the skill of the Visual Effects team.
What Makes a Memory: Inside the "Mind Frack" – What does it take to craft an action-packed sequence for a Marvel Studios film? Nothing short of an epic team effort!
Concept Art – Explore artwork from "Captain Marvel" and trace the visual development of characters.
On-Set Images – Uncover a trove of behind-the-scenes and production photography.
(Visited 1 times, 1 visits today)