We may earn money or products from the companies mentioned in this post. Please see policies for more information.
Thank you to Ubisoft for sponsoring this post. Please click here to learn more about Ubisoft. I was selected for this opportunity as a member of Clever Girls Collective. #UbiChamps
I have a kid video game review today for you! My 8 year old took on the hard job of reviewing Ubisoft's Poptropica Adventures for Nintendo DS. We love taking our DS on long car rides or on hand for possible long Dr. office waits (we've had a few of those lately). Both of my boys are familiar with Poptropica from their online game so they were excited to check out the DS version!
Here are some basics of the game if you aren't familiar
Explore an amazing world – Run and jump through three amazing Poptropica islands.
Create a character all your own! – Customize the look of your avatar with new clothes, hats, hair styles and more!
Build a collection like no other – Find gadgets and items as you progress in the game and complete your quests.
Mini game challenges – Complete the quests and unlock a host of minigames that provide more challenges and variety.
And here is 8 year old C's review of the game (in his words – some answering my questions as a prompt)
I think it's pretty cool that an online game became a game for my DS. The game takes you back in time with a blimp and you try to find things and you can get clothes. You go back to the Titanic sinking and even mythology. It's really cool because you have to find stuff for the museum to display. My favorite part about the game is how to get around with the blimp because I really like the history. It's fun on the DS because it has my 3 favorite islands. On mythology island you have to find all the letters for the Greek gods. On Superpower island you have to find the villains to see if they took the super hero's magazines. I haven't gotten to the 3rd island yet. I would recommend it to other kids definitely.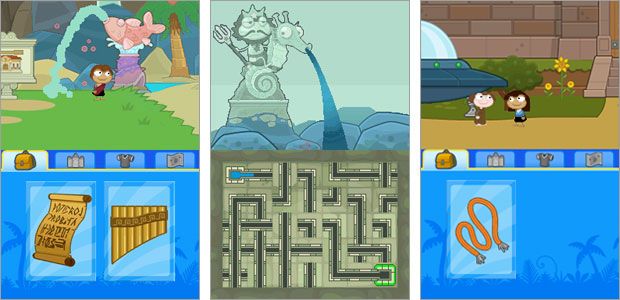 Now obviously it's a video game and kids tend to love any video game. We try to choose games to review that we think a lot of kids (and parents) would approve of! You can buy Poptropica Adventures on Amazon.
Disclosure: We were given the game to review but were not compensated in any other way. All opinions are 100% our own. There is an affiliate link in this blog post.
(Visited 2 times, 1 visits today)